Corned Beef Pandesal is the heartier cousin of our classic Pandesal. Soft, fluffy, and bursting with meaty corned beef, this Filipino-style bread roll is the perfect anytime snack!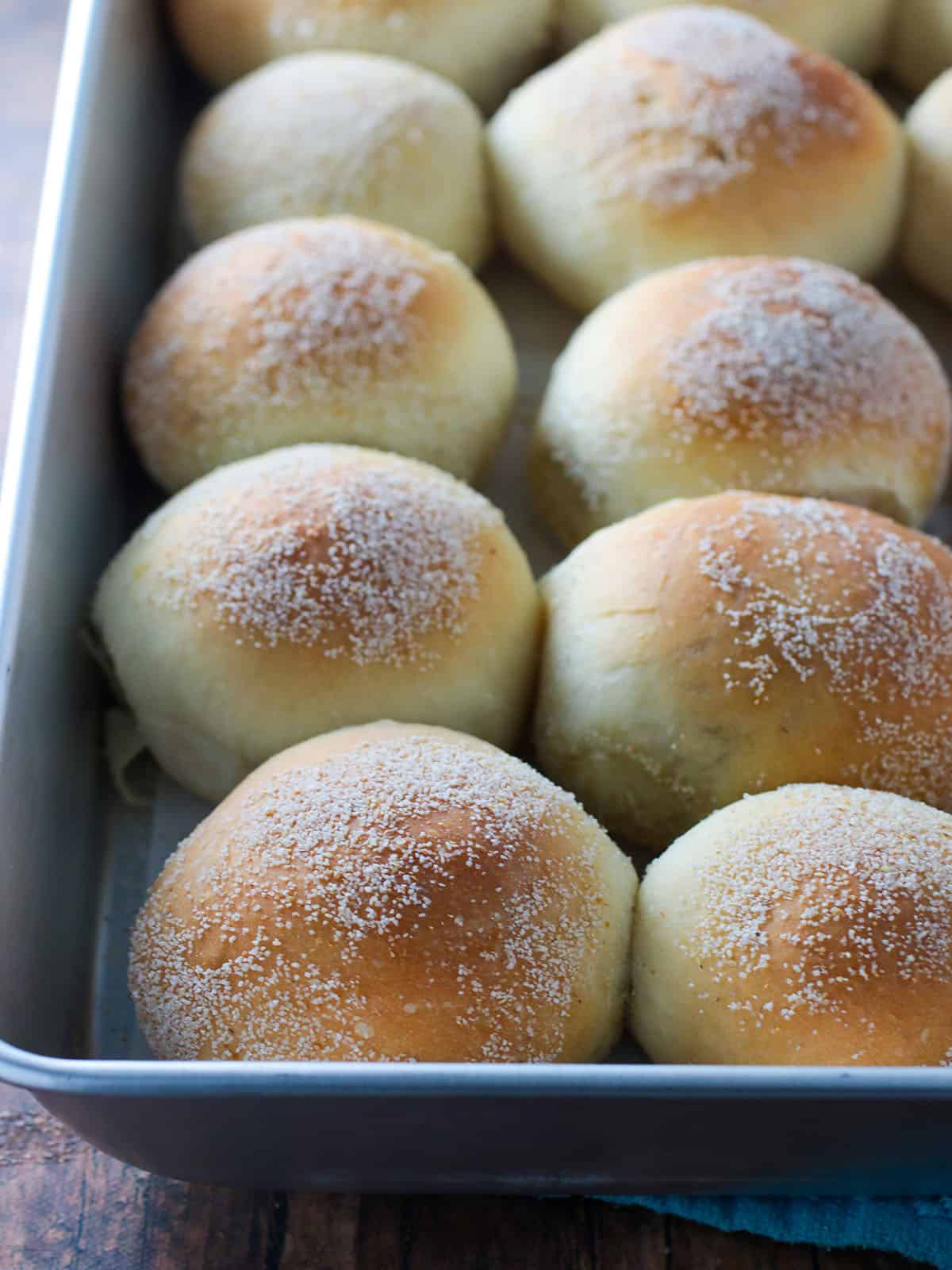 Table Of Contents
The filling

The dough

How to know if the dough has been kneaded adequately

The assembly

Serving suggestions

Storage and reheating instructions

More baked goods recipes

Corned Beef Pandesal
Hi, everyone! It's me again, Sanna from Woman's Scribbles. I love writing for Kawaling Pinoy; it's like my blog away from my blog. I am so happy to connect and share delicious food memories with you.
Today, I am bringing you another amazing baked treat, corned beef pandesal! I am so excited about these meat-filled buns; I am sure you'd enjoy them as much as my ube mamon and yema bread rolls.
They're delicious with soft, fluffy bread buns and a meaty corned beef filling! They're great for breakfast or any time of the day you need a hearty and tasty pick-me-up snack.
I used the pandesal recipe on the blog to make these meat buns, and the tender and tasty bread rolls it yields are the perfect canvas for a wide array of fillings. Feel free to make this stuffed pandesal your own; they won't disappoint!
Lalaine and I are working on a few more filling varieties, such as whipped cream cheese, adobo flakes, tuna salad, and creamy chicken. Leave a comment below if you have a flavor you'd like to see!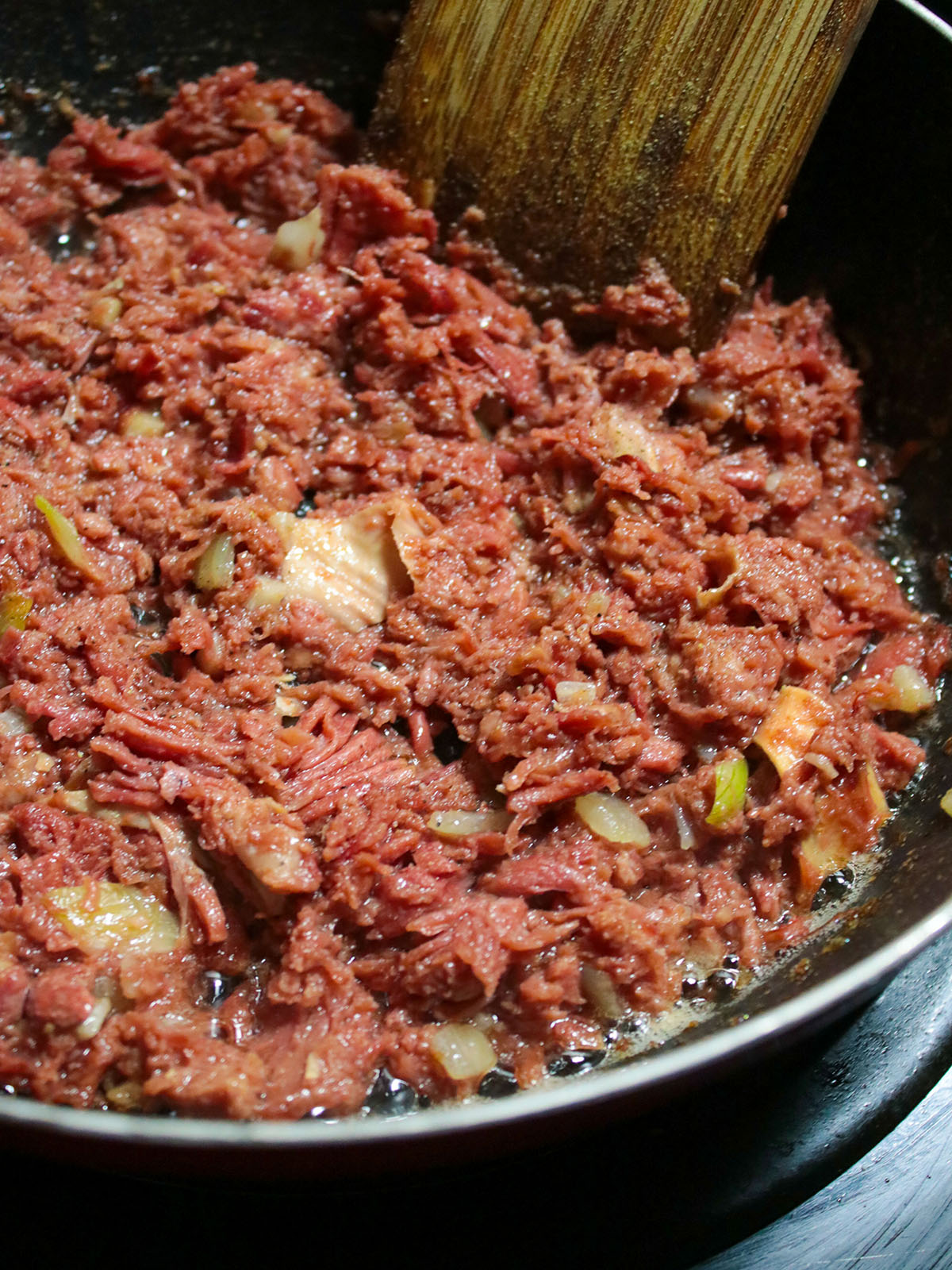 This pandesal with corned beef requires two parts, making the bread dough and cooking the meat filling.
The filling
I use canned corned beef, the chunky variety. Feel free to swap fresh corned beef if you have any on hand; chop and saute it into a hash.
You can also add frozen green peas for a touch of color and texture.
To simplify the process, you can saute the corned beef a day ahead and keep it in the fridge until ready to use.
Allow the filling to cool completely before using, as the escaping steam might tear the dough.
The dough
Baking with yeast can be intimidating and somewhat tricky, but with practice, making bread at home can be a fulfilling and rewarding activity. To illustrate the process, I have included step-by-step photos you can use as a guide.
In the bowl of your stand mixer, combine warm water and yeast and let sit for ten minutes until the mixture is bubbly. This proofing step is to ensure that the yeast is alive and active.
Combine butter, milk, sugar, eggs, and salt in another bowl. Stir the mixture until everything is incorporated. Make sure the milk is at a lukewarm temperature. It won't activate the yeast if it is too cold or too hot and can kill it.
Add the milk mixture and 2 cups of flour to the yeast mixture. Using the dough hook attachment, mix over medium speed until incorporated.
Gradually add the remaining 2 and 1/4 cups of flour in 1/2 cup increments and continue to mix until a shaggy dough forms. On a lightly floured surface, turn over the dough and knead, sparingly adding flour as necessary, for about 10 minutes or until smooth, supple, and elastic.
How To Know If The Dough Has Been Kneaded Adequately
The dough turns from shaggy to smooth. It will lose its stickiness and will only be tacky to the touch.
The dough is elastic. To test, stretch a little portion of the dough with your fingers. It should stretch thin and translucent in the center without breaking. If it breaks, the gluten is not well-developed and needs some more kneading.
The poke test. After you poke a finger in the surface, the dough forms a dimple, then springs back up again.