Keep warm and nourished with Pancit Molo! This classic Ilonggo soup with meat-filled dumplings, shredded chicken, and a homemade broth is filling and delicious. Perfect for a cold rainy day!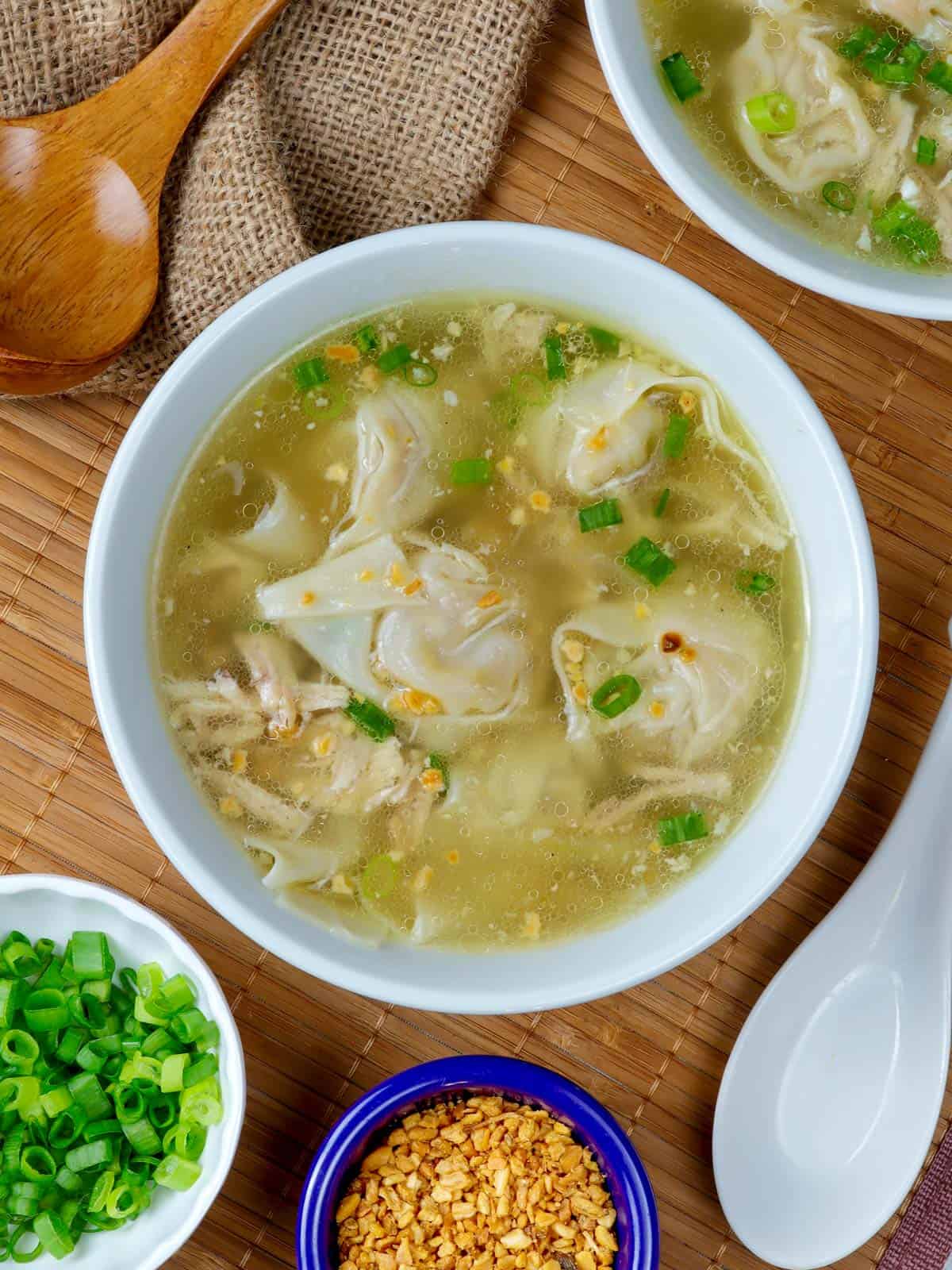 Table Of Contents
What is Pancit Molo

Dumpling Filling

Folding wontons

Homemade broth

Cook's tip

How to serve and store

More soup recipes

Pancit Molo
Texas weather is starting to get cooler, and I couldn't be happier. This summer has been the longest and hottest I can remember, and I'm excited to get some chill in the air.
I can't wait to enjoy my favorite comfort foods and cozy up to all things soup.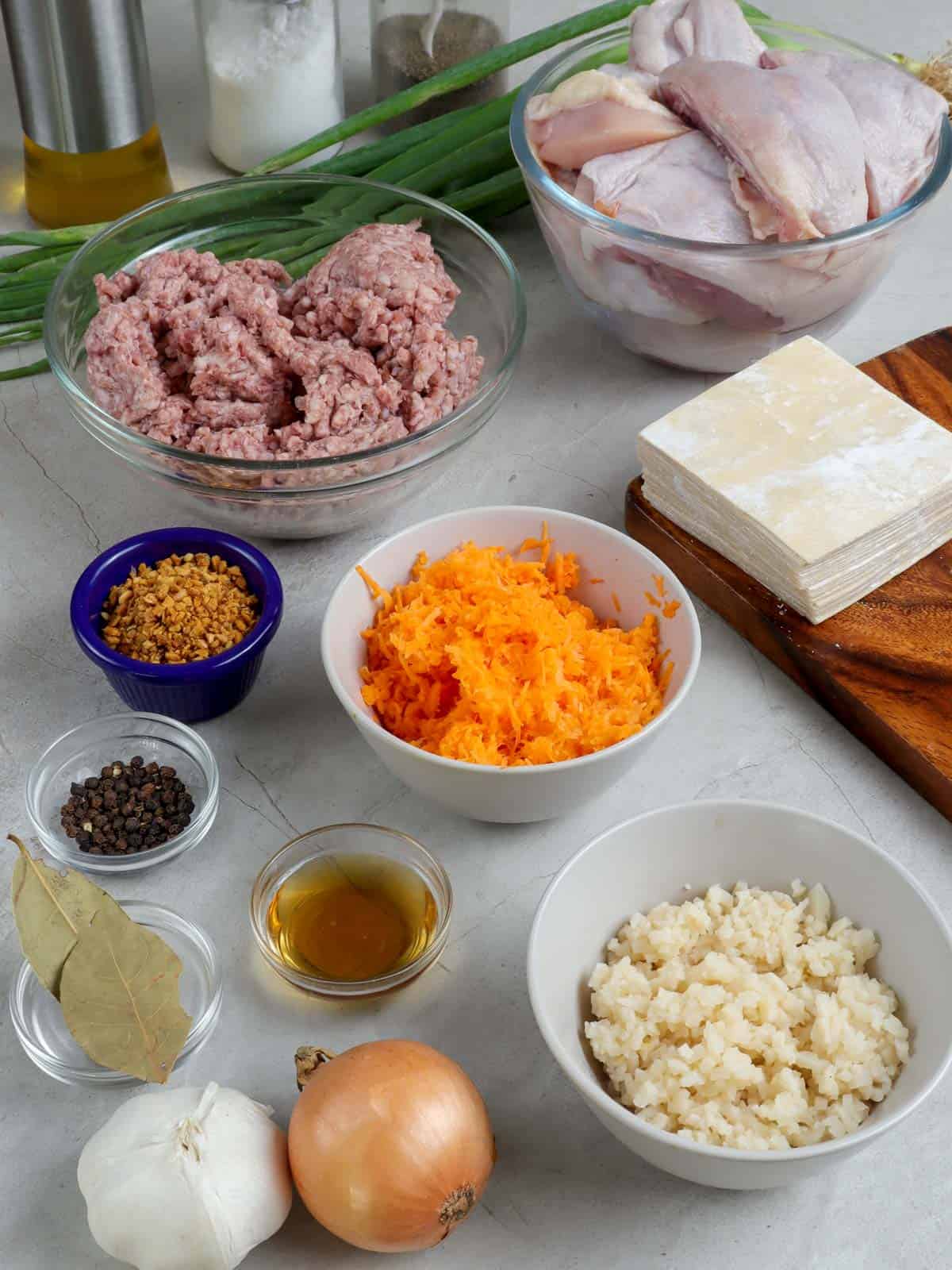 What is Pancit Molo
Pancit Molo is said to have originated from the town of Molo in the province of Iloilo and was influenced by the wonton soups brought in by the large community of Chinese settlers in the area.
The soup comprises meat-filled dumplings, shredded chicken, and a rich, savory broth. Pancit is the Filipino term for noodles, and the noodles in this case are the wonton wrappers.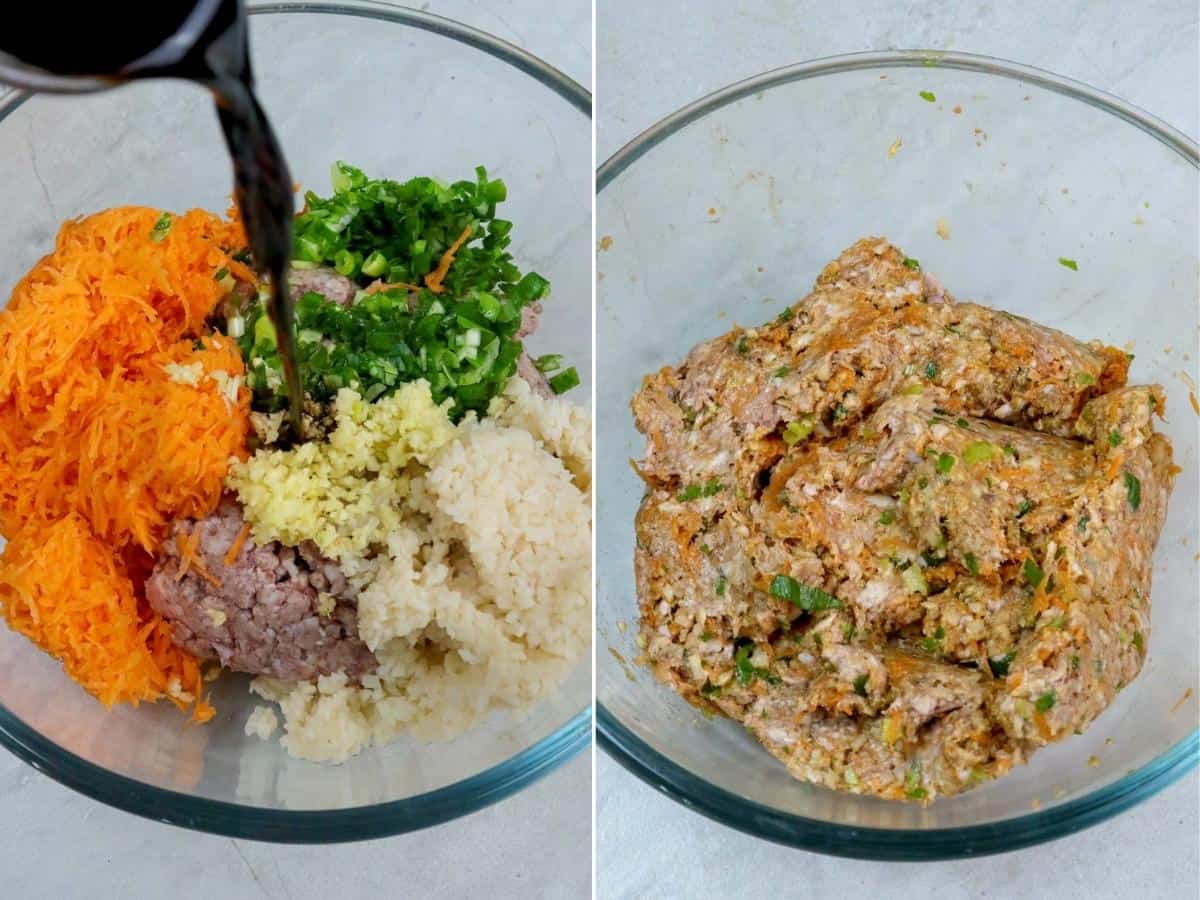 Dumpling Filling
For the dumplings, I use my tried and true meat-filling recipe which is a tasty mix of ground pork, shredded carrots, minced garlic, chopped green onions, and water chestnuts seasoned with soy sauce, salt, and pepper. You can also add minced shrimp for an extra boost of flavor.
I usually do a double batch and keep the remaining half in the freezer for other meals such as lumpiang shanghai and sotanghon bola-bola. And if time allows, I like to assemble twice the wontons to freeze them for future cravings.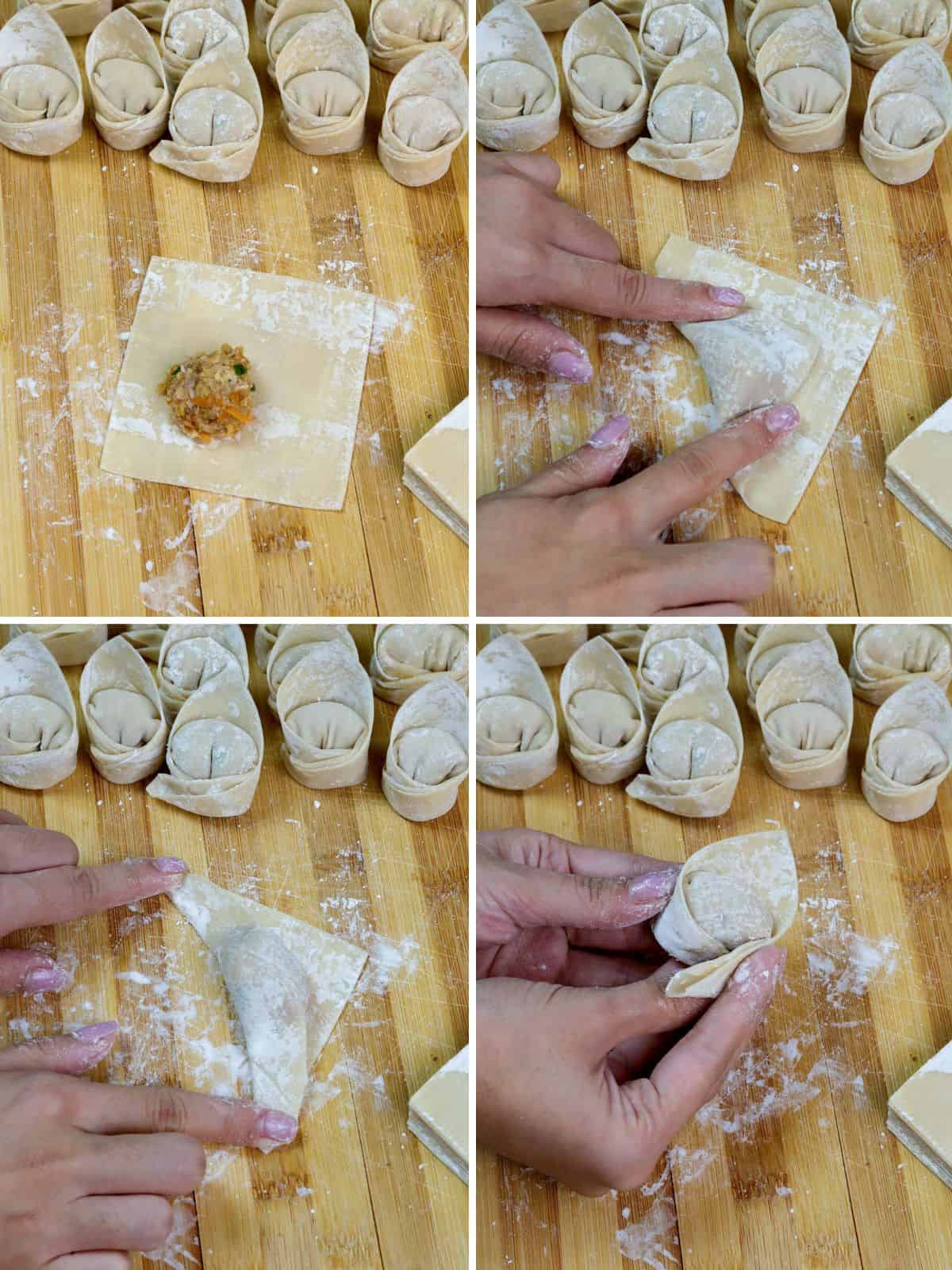 Folding wontons
The time-consuming yet fun part of the recipe is folding the wontons. There are many ways to do this, and it can be as simple as the scrunch method or a little bit more elaborate as these pretty bonnets.
Arrange the wrapper on a flat surface diagonally and place about a teaspoon of the filling in the center.
Fold the lower half of the wrapper over the filling. Press the sides to remove air bubbles.
Roll up the filled part to completely enclose the filling and press the edges to seal.
Bring the two corners together to form a bonnet-shaped dumpling and seal them with a dab of water. You will now have a little hat-shaped dumpling
Repeat with the remaining filling and wrapper. Cover the assembled wontons with a damp kitchen towel to keep them from drying out.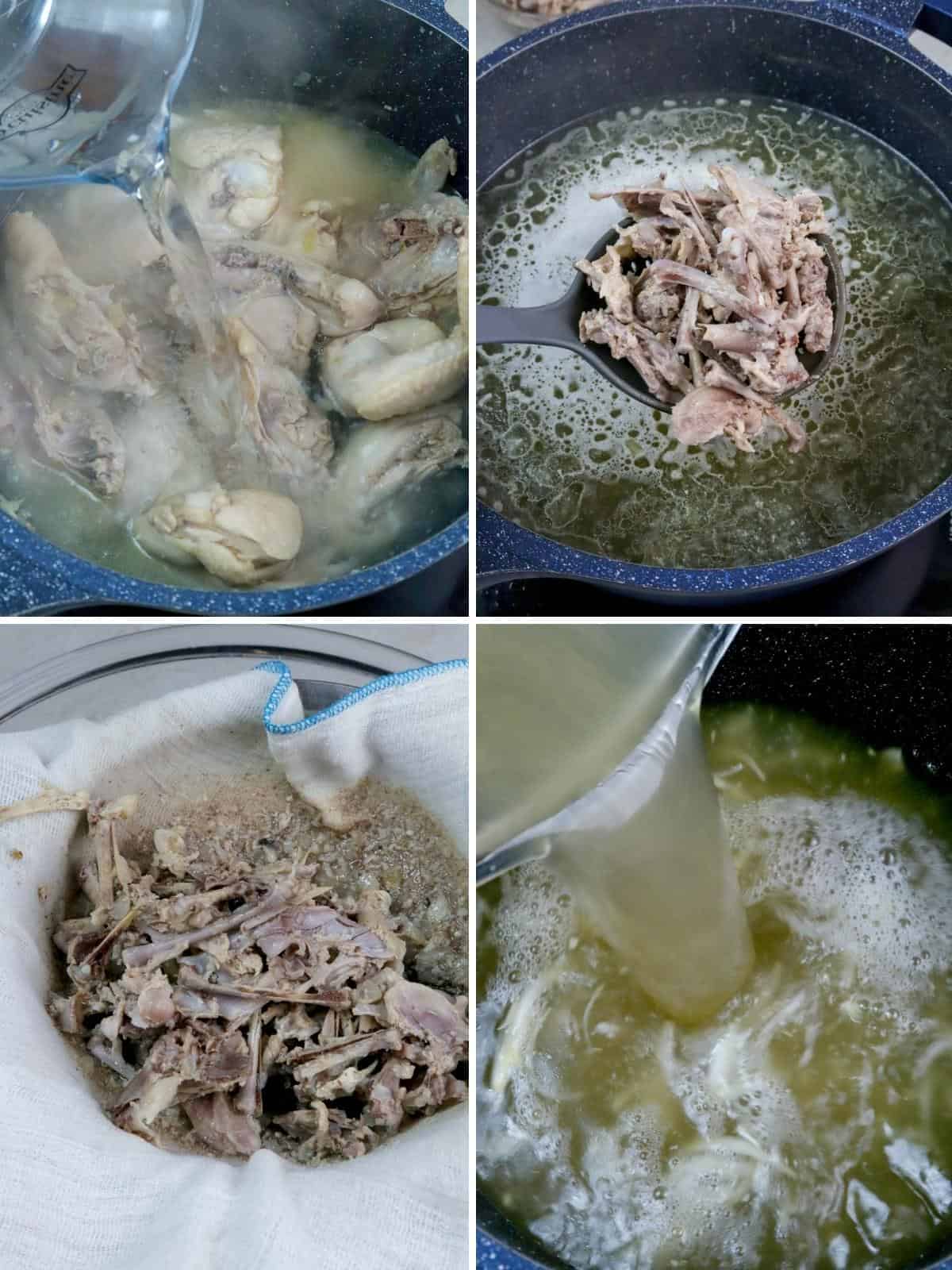 Homemade broth
While store-bought chicken broth or bases are convenient to use, there's nothing quite like a homemade broth to transform your pot of soup into nothing short of liquid gold. Not only can you control the amount of sodium, but you can also tailor the taste by switching up the herbs and aromatics.
Use bone-in chicken parts (think wings, thighs, neck, and breast bones) to ensure full-bodied flavor.
Cook's Tip
To remove the extra grease, make the stock a day before. Refrigerate overnight and skim off any hardened fat. Use in the recipe as directed.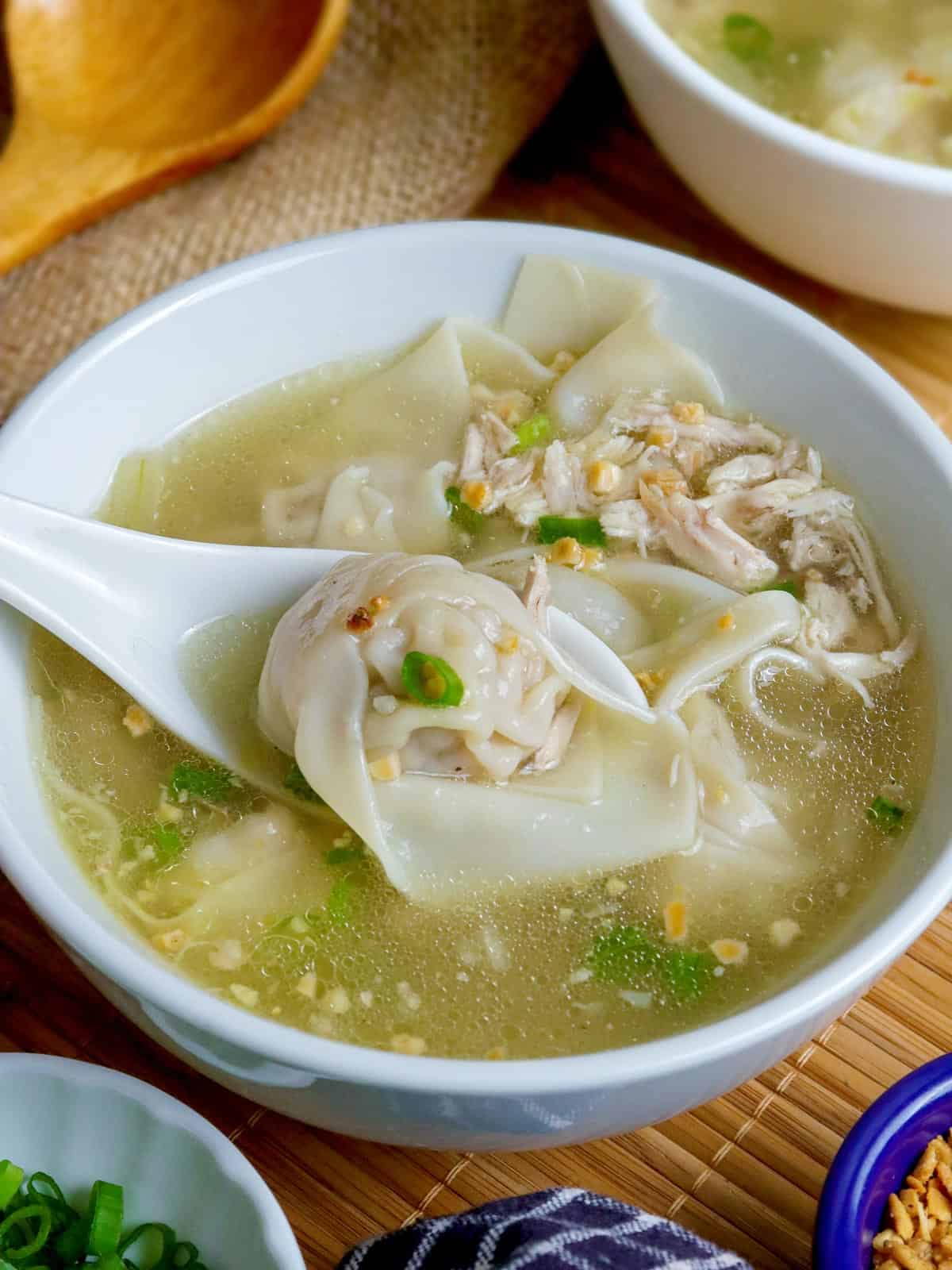 How to serve and store
This Filipino dumpling soup is traditionally served for lunch or dinner as a meal accompaniment. It's ladled in serving bowls and garnished with green onions and fried garlic bits for another layer of flavor.
To store leftovers, allow to cool completely and refrigerate for up to 3 days or freeze for up to 4 months.
Warm up in the microwave or on the stovetop until completely heated through.