Picadillo Soup with tender beef and chayote in a flavorful tomato broth is delicious on its own or with steamed rice. Hearty and tasty, it's the ultimate comfort food!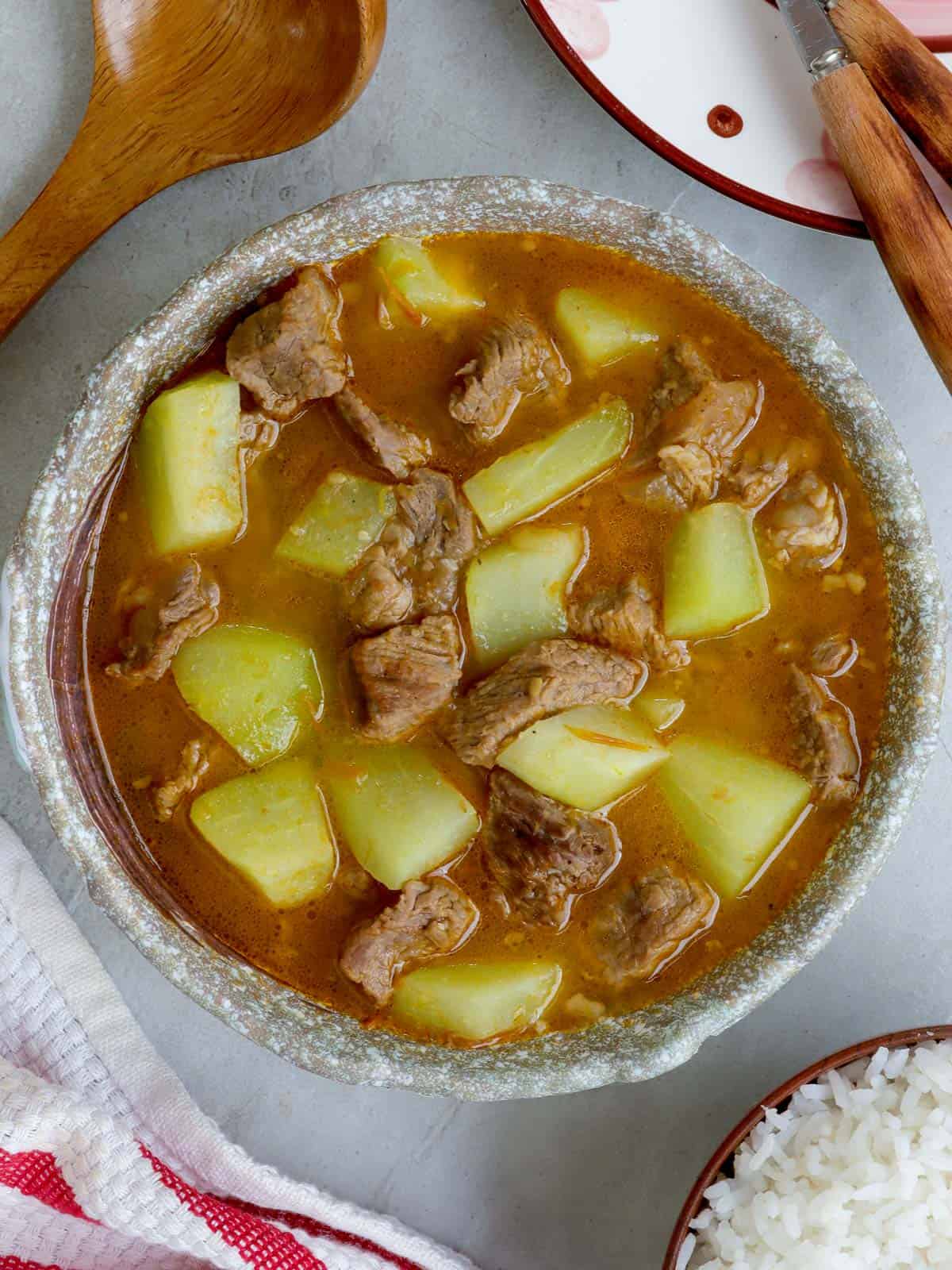 Table Of Contents
What you'll need

Cooking steps

Cook's tip

How to serve and store

More delicious soups

Picadillo
There are two forms of Picadillo in Philippine cuisine. One is a dry stew version known as giniling which is traditionally made of ground or minced beef, potatoes, carrots, and green peas cooked in tomato sauce.
The other is this soup version which is usually made of ground or diced beef and potatoes or chayote cooked in a tomato-based broth.
What you'll need
Beef– chuck roast, bottom or top round cut into cubes. You can also use ground or minced beef for quicker cooking and a budget-friendlier option
Chayote– you can swap potatoes and carrots
Tomatoes– fresh brings the best flavor; canned tomato sauce is a good alternative in a pinch
Onions and garlic– aromatics
Fish sauce– adds umami flavor
Salt and pepper– use to season to taste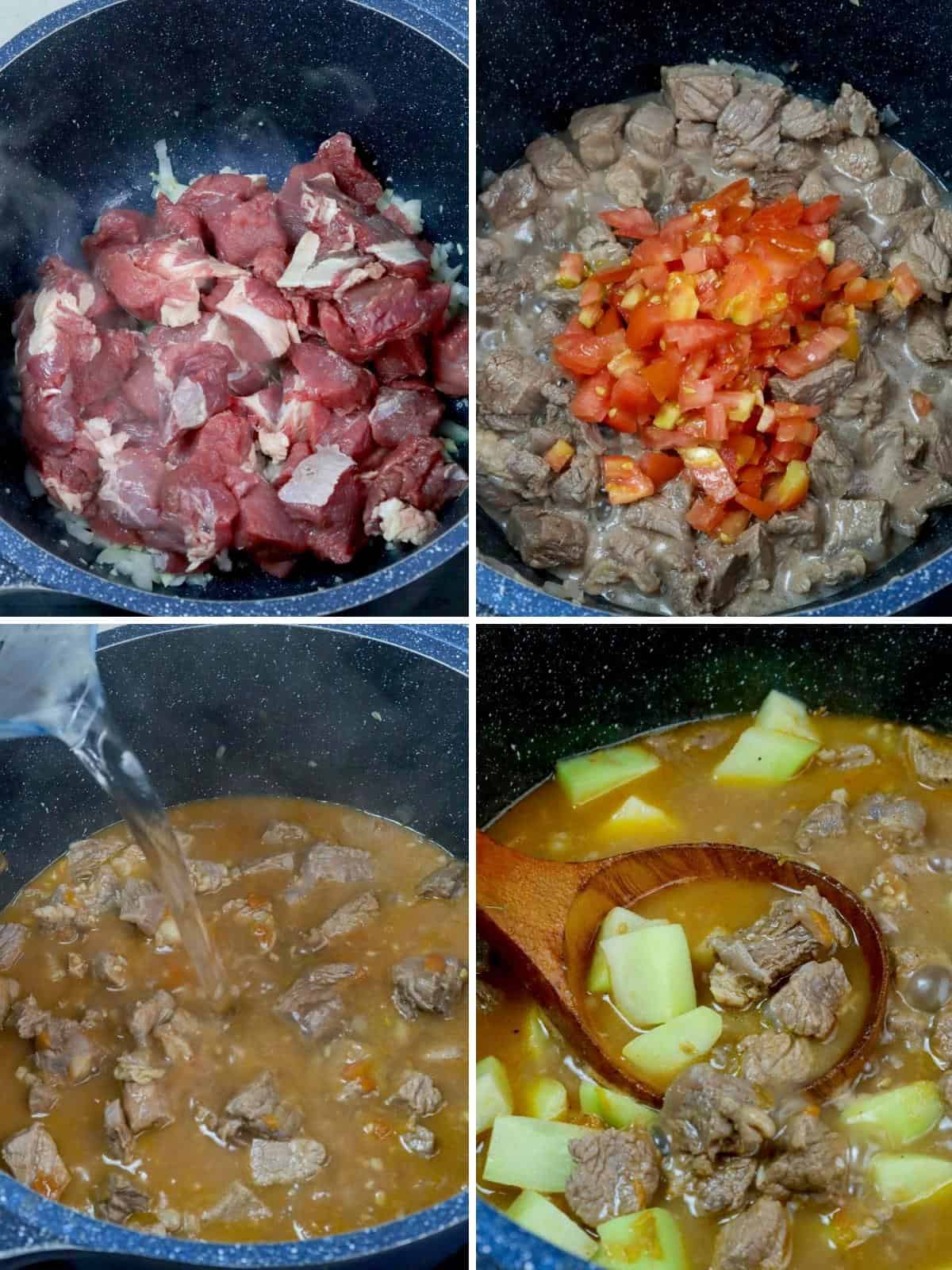 Cooking steps
The soup draws flavor from the trinity of Filipino cooking which are onions, garlic, and tomatoes. Like most of our Filipino dishes, it starts by ginisa or sauteing diced beef in onions, garlic, and tomatoes until it changes color and the aromatics softens.
The beef is then simmered in broth until fork tender and chayote is added to complete the soup.
The soup is seasoned with fish sauce as well as salt and pepper to taste.
Cook's Tip
Cutting the meat into smaller pieces and adding other ingredients such as vegetables is a delicious way to extend portions. Like pork menudo where potatoes, carrots, green peas, and bell peppers stretch the number of servings, Picadillo is a good example of this economical way of cooking. Two pounds of meat, two reasonably-sized chayotes, and a tasty broth will comfortably feed a family of four with leftovers to spare.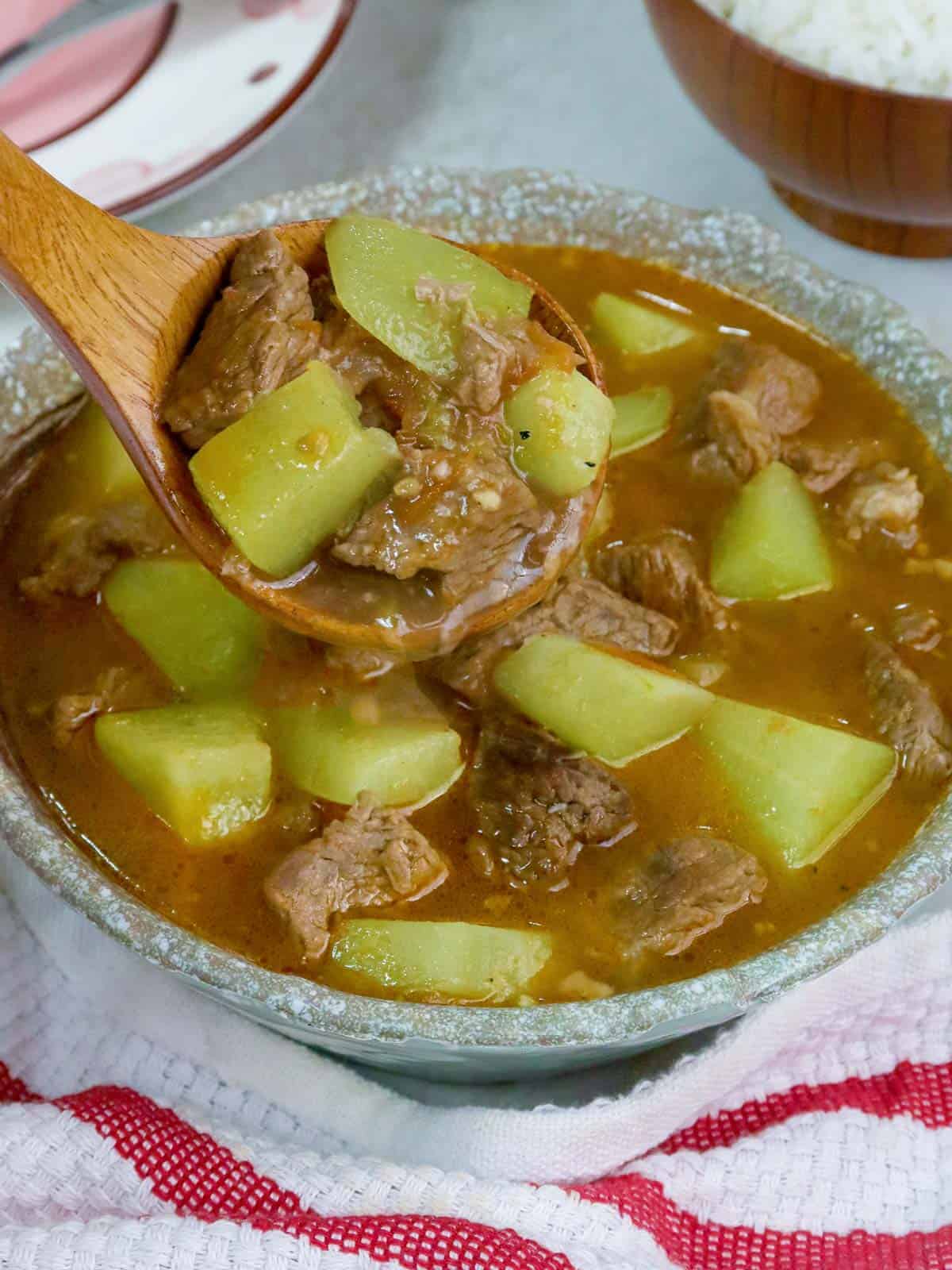 How to serve and store
Serve it on its own or with steamed rice as a main dish for lunch or dinner.
Store leftovers in an airtight container and refrigerate for up to 3 days or freeze for up to 2 months.
Reheat in the microwave or on the stovetop until completely heated through.